As a leader in sustainable food packaging, Qiaowang is proud to introduce our innovation: Compostable Food Tray. With a strong commitment to environmental responsibility, we have developed a range of compostable trays that provide a greener choice for the food service industry. Our trays not only offer convenience and functionality but also help reduce the carbon footprint associated with traditional packaging materials.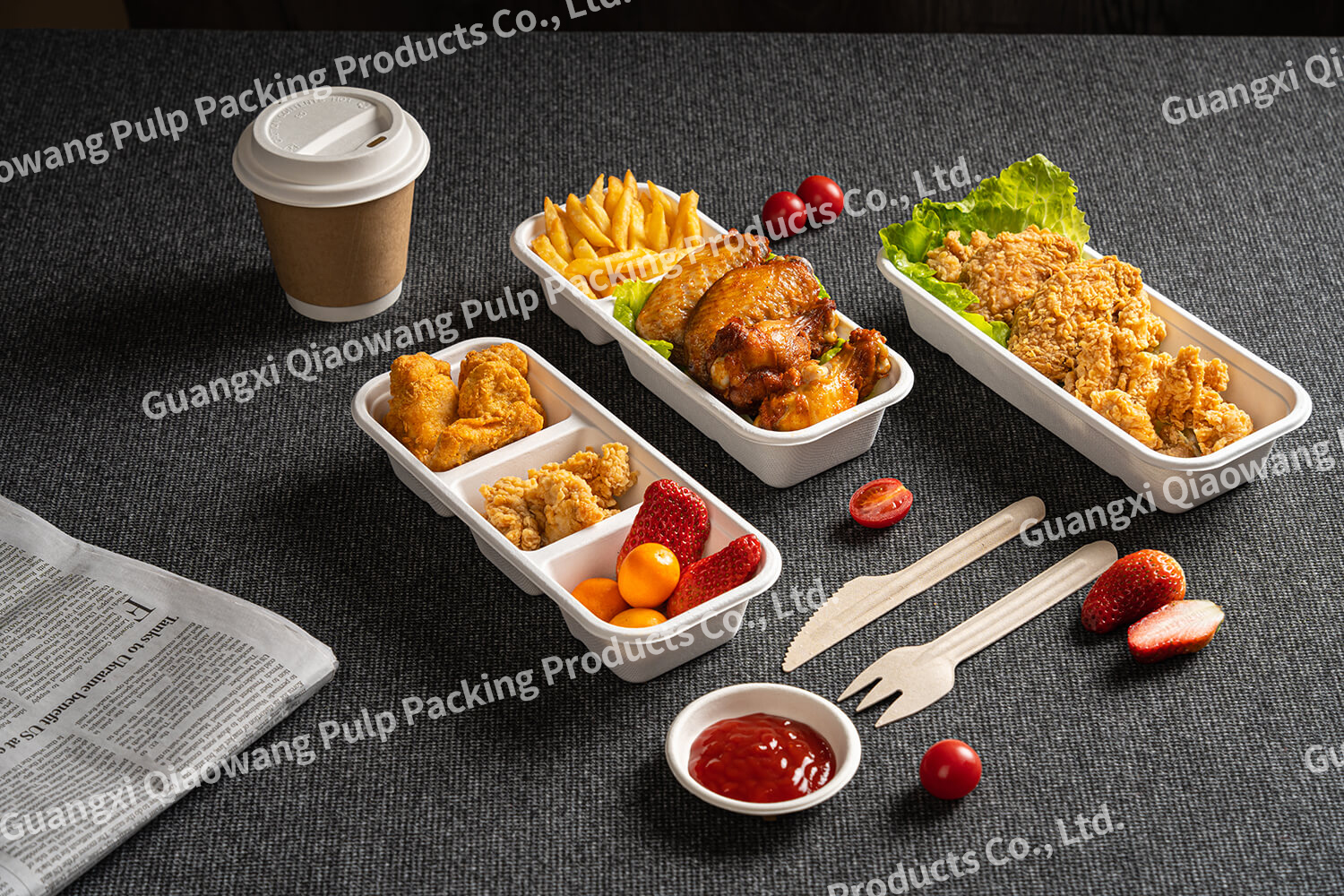 Compostable Tray Innovation
At Qiaowang, we understand the importance of continuously pushing the boundaries of sustainable packaging solutions. Qiaowang compostable food tray is made from premium quality bagasse pulp, derived from renewable resources such as sugarcane fiber. This innovative material is 100% plant-based and compostable, making it the perfect alternative to traditional plastic and Styrofoam trays.
By utilizing bagasse pulp, we ensure that our trays are not only environmentally friendly but also provide superior performance. Our trays are oil-proof and waterproof, making them suitable for a wide range of food items. Whether it's hot or cold food, our trays can withstand various temperatures, making them microwaveable and refrigerable. This versatility makes them a convenient choice for fast-food restaurant chains, catering services, and outdoor events.
Sustainable Solutions for Food Service
Choosing Qiaowang's compostable food trays means choosing a sustainable solution that aligns with the growing demand for eco-friendly packaging. Our trays are designed to reduce carbon emissions and promote a circular economy. By opting for compostable trays, businesses can take a significant step toward minimizing their environmental impact.
In addition to their eco-friendly nature, our trays boast a stylish design that enhances the presentation of food. Their three-dimensional forming capability allows for customized products that carry brand recognition. We offer printing options to highlight your brand and create a lasting impression on customers.
Choose Us for Your Sustainable Packaging Needs
When it comes to sustainable food packaging, Qiaowang is the name you can trust. With over 20 years of experience in the industry, we have developed strong R&D capabilities, allowing us to stay at the forefront of sustainable packaging innovations. Our dedicated team of professionals is committed to delivering high-quality products and excellent customer service.
We take pride in our OEM/ODM service, which enables us to provide tailored solutions to meet your specific needs. Whether you require wholesale quantities or customized designs, our flexible order taking and large-scale production capabilities ensure timely delivery and customer satisfaction.
Conclusion
With Qiaowang's compostable food trays, you can make a greener choice for your food service business. Our trays combine sustainability, functionality, and style, offering a viable alternative to traditional packaging materials. By choosing Qiaowang, you are not only investing in high-quality products but also contributing to a more sustainable future.
Make the responsible choice today and join us in embracing a circular economy. Choose Qiaowang's compostable food trays for your business needs, and together, let's make a positive impact on the environment. For more information about our products, we offer, and our commitment to sustainability, visit our website or contact us directly. Experience the difference of Qiaowang pulp packing today.