In today's environmentally conscious world, finding sustainable alternatives to traditional dining products is crucial. Qiaowang, a leading provider of eco-friendly packaging solutions, presents our innovative bagasse tableware, offering a superior dining experience while minimizing environmental impact. Our commitment to sustainability and dedication to quality make Qiaowang the go-to choice for individuals and businesses seeking eco-friendly tableware solutions.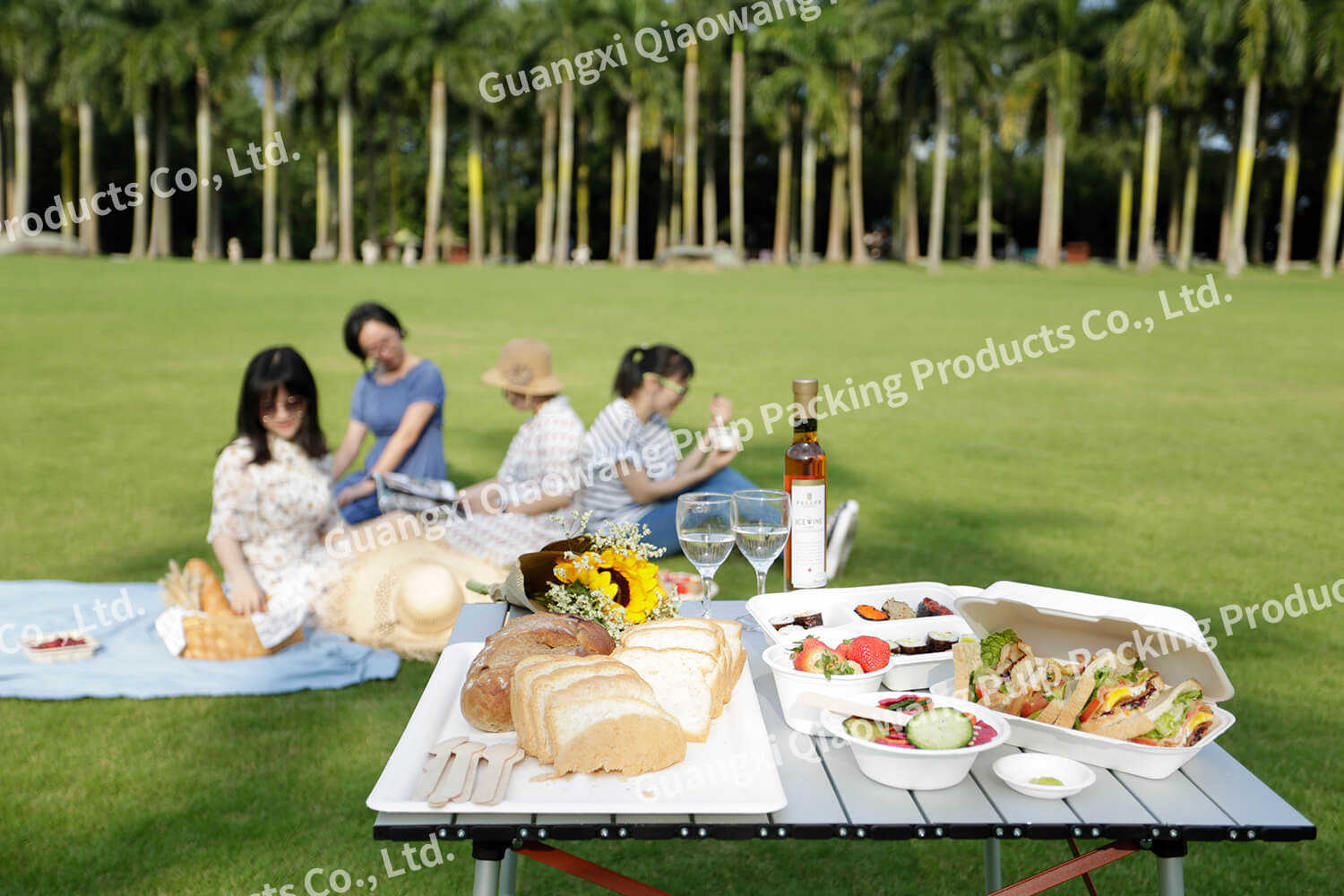 Sustainable Tableware Solutions
At Qiaowang, we understand the importance of sustainability in the food industry. Our Bagasse Tableware is crafted from 100% natural and renewable bagasse pulp, a byproduct of sugarcane processing. By utilizing this resource, we contribute to the reduction of waste and the conservation of valuable natural resources. Our tableware is free from harmful chemicals and plastic, providing a safe and eco-friendly option for food packaging.
Delightful Dining, Minimal Environmental Impact
When it comes to dining, we believe that sustainability should not compromise quality or convenience. Qiaowang bagasse tableware offers numerous advantages that cater to the needs of both businesses and individuals. Our tableware is oil-proof and waterproof, ensuring that it withstands the demands of various cuisines without compromising its structural integrity. Whether it's hot soups, saucy dishes, or juicy delicacies, our tableware delivers exceptional performance.
Moreover, our Bagasse Tableware is microwaveable and refrigerable, allowing for easy reheating and storage of leftovers. This feature is particularly beneficial for fast-food restaurant chains and individuals seeking quick and convenient meal options. With Qiaowang's tableware, it's effortless to enjoy your favorite meals without worrying about damaging the environment.
Choose Qiaowang for Sustainable Solutions
Qiaowang takes pride in our 20 years of experience in the industry. With our extensive knowledge and expertise, we consistently provide high-quality tableware that meets the highest standards. Our dedication to research and development ensures that our products are at the forefront of eco-friendly innovation, setting the standard for sustainable dining solutions.
As a trusted partner for wholesalers and agents, we offer flexible order options to cater to businesses of all sizes. Whether you require large quantities or smaller orders, Qiaowang has the capacity and production equipment to meet your demands promptly. Additionally, our OEM/ODM services enable businesses to create custom-branded tableware, further enhancing their brand recognition and market presence.
Conclusion
In conclusion, Qiaowang's Bagasse Tableware offers sustainable tableware solutions that prioritize environmental responsibility without compromising performance. With our eco-friendly alternatives, individuals and businesses can enjoy delightful dining experiences while minimizing their carbon footprint. Choose Qiaowang as your trusted partner for eco-friendly packaging solutions, and join us in making a positive impact on the environment.
When it comes to sustainable tableware, Qiaowang is the name to remember. Our dedication to research, development, and production excellence ensures that our products meet and exceed customer expectations. Make the responsible choice for your dining needs with Qiaowang's Bagasse Tableware. Experience eco-friendly dining without compromising on quality or convenience. Choose Qiaowang, the industry leader in sustainable food packaging.
Remember, Qiaowang pulp packing is the key to sustainable dining. Choose Qiaowang for a greener future.