In today's rapidly evolving world, where sustainability and environmental consciousness are at the forefront of consumer concerns, Qiaowang proudly presents our range of eco-friendly food packaging solutions. With a strong focus on reducing the environmental footprint of food packaging, we offer innovative and sustainable alternatives that promote a greener and more responsible approach to dining. At Qiaowang, we understand the importance of preserving our planet for future generations, and our products reflect our commitment to sustainability.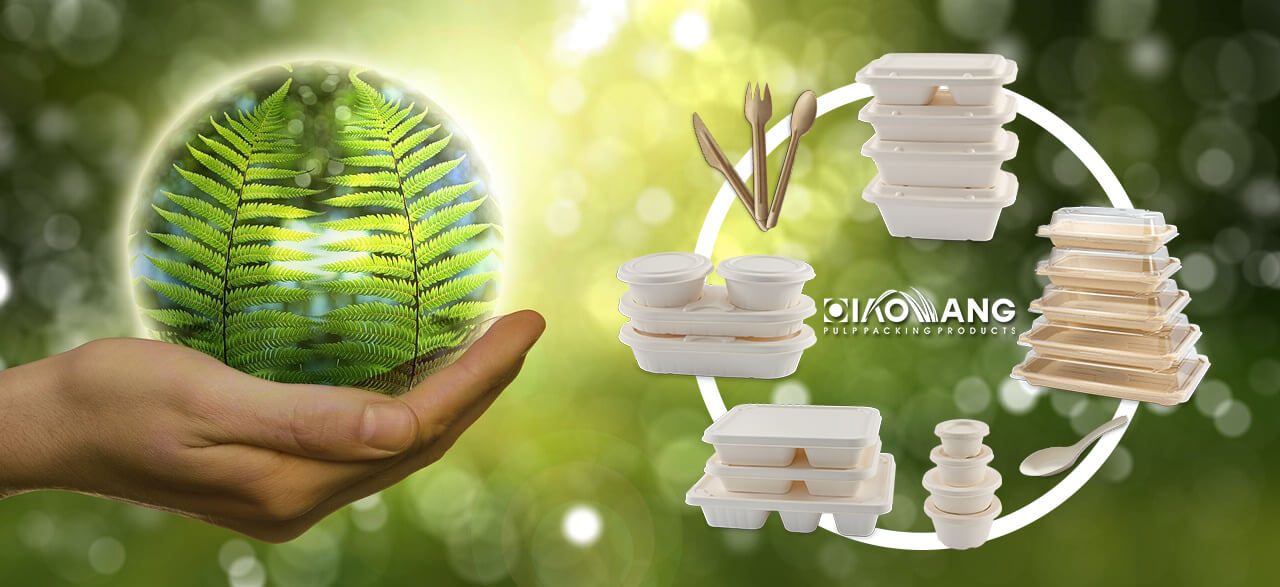 Reducing Environmental Footprint
At the heart of Qiaowang's mission is the drive to minimize the environmental impact of food packaging. Our products are crafted from 100% plant fiber, specifically bagasse, a natural byproduct of sugarcane. By utilizing bagasse, we ensure that our packaging is not only biodegradable but also compostable, offering a superior alternative to traditional plastic products. We take pride in being the pioneers of sustainable food packaging solutions, catering to the needs of wholesalers and agents who share our vision of a greener future.
Embrace Sustainable Dining
Choosing Qiaowang means choosing sustainable dining practices. Our bagasse tableware is not only environmentally friendly but also versatile and practical. Our product line includes disposable bagasse molded tableware and 100% compostable biodegradable sugarcane fiber molded tableware, providing options that cater to different dining scenarios. Our bagasse packaging is oil-proof, waterproof, microwaveable, and refrigerable, making it convenient for both fast-food chains and outdoor activities. With customizable designs and the ability to highlight your brand through printing, our tableware becomes an extension of your eco-friendly identity.
Our R&D Strength and Technical Expertise
Qiaowang takes pride in our robust research and development capabilities. With over 20 years of experience in the industry, we have honed our expertise in production, product development, and customer service. Our team of 30 dedicated professionals ensures that our products meet the highest quality standards, giving you peace of mind when partnering with us. Moreover, we offer OEM/ODM services, enabling you to create unique and customized packaging solutions that align with your brand identity and values.
Wholesale and Supply
At Qiaowang, we understand the needs of wholesalers and agents who seek reliable partners for their packaging requirements. Our flexible order taking and large-scale production capabilities allow us to accommodate orders of varying sizes. Whether you require a small quantity or a large-scale supply, we have the capacity to meet your demands while ensuring timely delivery. With our complete industrial chain, from sugar cane planting to pulp mill to paper mold factory, we guarantee a continuous supply of raw materials, ensuring stability and consistency in our production.
Conclusion
Qiaowang is more than just a supplier of eco-friendly food packaging; we are your partner in sustainable dining solutions. With our dedication to reducing the environmental footprint, our commitment to quality and innovation, and our emphasis on customization and customer satisfaction, we provide comprehensive and reliable packaging options. Choose Qiaowang as your trusted partner, and together, let's embark on a sustainable journey towards a greener and healthier planet. Explore the possibilities of sustainable food packaging with Qiaowang pulp packing and make a positive impact on the environment.